John Paul II's Theology of the Body and Living the Gospel of Life
In this 2012 presentation, HLI President Father Shenan J. Boquet speaks about John Paul II's Theology of the Body and how it is an important resource in understanding God's plan for marriage, family, and society.
The Theology of the Body was given by the pope as a response to the attack on human sexuality and the family by secular forces that he saw were out to destroy the understanding of God's plan for them.
Running time 59:32.
Did you find this useful?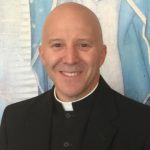 Father Shenan J. Boquet was ordained in 1993 and is a priest of the Houma-Thibodaux Roman Catholic Diocese in Louisiana, his home state, where he served before joining HLI as its President in August 2011. Father Boquet earned a BA from Saint Joseph Seminary College, a Master of Divinity (MDiv) from Notre Dame Seminary Graduate School of Theology, a Certification Program in Health Care Ethics from the National Catholic Bioethics Center, and a Master of Science in Bioethics (MSBe) from the University of Mary in Bismarck. In 2018, Father Boquet was awarded an honorary visiting professorship by the Benedict XVI Catholic University in Trujillo, Peru. He is available for interviews and bookings on behalf of HLI by emailing hli@hli.org.