Waves of State Pro-Life Progress
The pro-life movement in the United States is continuing to introduce and pass an unprecedented number of pro-life laws at the state level. According to new data just released by the pro-abortion Guttmacher Institute, over five hundred pro-life pieces of legislation have been introduced in 42 different states so far in 2022. This includes 86 bills that they classify as "abortion bans," introduced in 31 states.
As of April 14, 28 pieces of pro-life legislation had passed at least one legislative chamber, and 33 had been enacted into law. Among the legislation that has passed is a near-total abortion ban in Oklahoma, which would punish abortionists who perform an abortion, at any stage of pregnancy, with up to ten years in prison and a fine of up to $100,000.
Shortly before signing the near-total abortion bill into law, Republican Governor Kevin Stitt said "I promised Oklahomans that I would sign every pro-life bill that hit my desk, and that's what we're doing here today."
Even in the two weeks since the Guttmacher Institute's last update on April 14, more pro-life bills have passed. For example, just a few days ago, Oklahoma lawmakers passed new legislation that is modeled on Texas' Heartbeat Law. This legislation uses the same novel enforcement mechanism that has so far protected the Texas law, a law that to date has withstood judicial scrutiny. If this bill is signed by Governor Stitt, it would ban abortion after about six weeks' gestation.
All told, pro-life legislators – emboldened by the success of the Texas law – have introduced 19 similar bills in 13 different states. In addition to the one that passed in Oklahoma, another has passed in Idaho (however, enforcement of that law has been temporarily halted by the Idaho Supreme Court).
A significant portion of the growth in the number of pro-life bills is motivated by hopes that the U.S. Supreme Court will soon either overturn Roe v. Wade, or significantly modify it. Roe v. Wade is, of course, the Supreme Court case that legalized abortion in the United States. It also stipulates that states must allow abortion up to the point of viability, which is typically placed at somewhere around 24 weeks' gestation.
However, in recent years savvy pro-life legal analysts and politicians have been focusing on crafting legislation designed to push back against Roe, giving the U.S. Supreme Court a chance to overturn its prior, horrifically-erroneous decision. The Court's decision in one of those cases – Dobbs v. Jackson Women's Health Organization – is expected in the coming months, and may well spell the demise of Roe.
"Even before the US Supreme Court rules on Mississippi's 15-week abortion ban in Dobbs v. Jackson Women's Health Organization by the end of June, anti-abortion policymakers are banking on the Court's 6–3 anti-abortion majority to weaken or outright overturn Roe," notes the Guttmacher Institute. "They are preemptively flooding statehouses with restrictive bills in hopes that federal protections for abortion rights will soon be gone."
If Roe is indeed overturned (and please continue to pray for our U.S. Supreme Court justices, that they will have the courage to do the right thing) abortion will immediately become wholly illegal, or significantly restricted, in the many states that have passed so-called "trigger" laws. These are laws that do not immediately ban abortion, but instead, are designed to go into effect as soon as Roe v. Wade is overturned.
According to the Guttmacher Institute, this year twelve trigger laws have been introduced in nine states. One has already been enacted in Wyoming. In total, thirteen states already have such laws on the books. This is in addition to the nine states that have pre-Roe abortion bans still on the books, which would come back into effect if Roe were overturned.
Pro-Abortion Pushback
As you might expect, pro-abortion activists are responding to this all-out pro-life push by introducing their own, often-staggeringly-extreme pro-abortion legislation.
According to the Guttmacher Institute, 231 pro-abortion measures have been introduced in 29 states and D.C. So far, eleven of those measures have been passed and enacted into law, including in California, Colorado, Maryland, New Jersey, New York, Oregon, and Washington.
All of these states are "blue states," which goes to show the unfortunate political divide in our country. Tragically, the Democratic Party and its supporters have committed themselves wholly to supporting legalized child-killing.
Some of the pieces of legislation that have been introduced or passed in Colorado, California and Maryland are so sweeping that some pro-life legal analysts have raised concerns that they effectively create a loophole that legalizes infanticide!
As Axios reports, a Colorado law that was passed "enshrine[s] unrestricted access" to abortion in state law. But if that were not bad enough, the law also includes a provision that could protect doctors who refuse to provide life-saving health care to a child that is born alive from being prosecuted. In the case of one Maryland bill, an even worse provision was changed only after an outcry from pro-life activists.
Other pro-abortion bills introduced aim to broaden the scope of health care workers who are legally permitted to commit abortions, deemed necessary in light of the rapidly decreasing number of doctors willing to kill unborn children, while yet other bills seek to mandate abortion coverage in health insurance or increase state funding for abortion.
Progress at Home, but Worries on the International Front
However, even as the pro-life movement makes significant progress in the United States in the face of a steadfastly pro-abortion federal administration, I am hearing from HLI's overseas partners that there are worrying trends at the international level.
For example, Emil Hagamu, HLI's Regional Director for English-speaking Africa, and other HLI leaders in Africa are currently working to stop the advancement of pro-abortion legislation in several English-speaking African countries, which seeks to impose its foreign ideology on a life- and family-loving people and their culture. Sadly, this is not the first time these leaders have had to fight such battles, and though they have been successful in fending off prior attempts, the antinatalists have tremendous financial resources and political influence, which enable them to keep peddling their agendas.
I will provide further details about this attack in a future Spirit and Life column.
Meanwhile, in Latin America abortion activists are hailing what they are calling a "green tide." In recent years, pro-abortion activists in Latin America have taken green as their official color, while pro-life activists have adopted blue. Although Latin America still remains heavily pro-life, some significant cracks are beginning to show in the region's laws protecting unborn children. The latest country to decriminalize abortion is Colombia, following Mexico and Argentina. Meanwhile, Chile is now led by a progressive president who has promised to decriminalize abortion there.
For now, even as we celebrate and encourage pro-life activists domestically in the U.S., let us not lose sight of the global perspective. We must continue to educate ourselves about the ways wealthy and powerful pro-abortion globalists are seeking to export the culture of death. And we must continue to pray for and financially support our international partners, who often appear akin to David facing the globalist Goliath.
Nevertheless, the continuing progress here in the U.S. is proof positive that there is nothing "inevitable" about the triumph of the culture of death. Wide swathes of the world, particularly in Africa and Latin America, remain steadfastly pro-life. Despite the pressure being brought to bear on them, they can take courage seeing pro-life activists in the United States slowly turning the ship around.
Even as pro-abortion forces in the United States are spending hundreds of millions of dollars a year to export abortion, they are losing ground here. Steadfast defenders of human rights are reintroducing protections for unborn children that were removed decades ago, proving premature the smug confidence of abortion activists that legal abortion was the way of the future and was here to stay.
As it turns out, killing the next generation, demolishing the family, and traumatizing millions of mothers and fathers, is not the popular proposition pro-abortion activists thought it would be. The wave of the future is the wave of life. Even when it seems that evil has swept the battlefield, we know that the dawn will soon rise when the forces of evil retreat, because Christ has already won the victory.
Did you find this useful?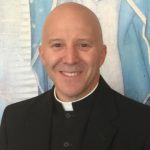 Father Shenan J. Boquet was ordained in 1993 and is a priest of the Houma-Thibodaux Roman Catholic Diocese in Louisiana, his home state, where he served before joining HLI as its President in August 2011. Father Boquet earned a BA from Saint Joseph Seminary College, a Master of Divinity (MDiv) from Notre Dame Seminary Graduate School of Theology, a Certification Program in Health Care Ethics from the National Catholic Bioethics Center, and a Master of Science in Bioethics (MSBe) from the University of Mary in Bismarck. In 2018, Father Boquet was awarded an honorary visiting professorship by the Benedict XVI Catholic University in Trujillo, Peru. He is available for interviews and bookings on behalf of HLI by emailing hli@hli.org.