New Year's Greeting from Fr. Shenan Boquet
Hello Family!
I'm Fr. Shenan Boquet, President of Human Life International.
I would like to extend to you and your family a very blessed and happy New Year.
It is hard to believe the year 2019 is past, and a new year dawns upon us.
As I reflect over the year 2019, I am so mindful of what we have been able to accomplish together in the mission field. Because of your prayers, support, care, sacrifices and generosity, we have been able to impact the lives of thousands of people around the world, together making a difference. And with the year 2020 now upon us, our work must intensify and even grow.
This time of the year people are making so many resolutions. I have one of my own. Actually, it's a New Year's wish. It is based on the teaching of Our Lord Jesus in the Gospel of Matthew chapter 25 when he says that whatever we do unto the least of his people, we do unto Him.
There's a simple motto that I wish everyone would live by. It goes like this: Whatever happens to my brother or my sister happens to me. Whatever affects my brother or my sister affects me.
If each of us lived this way, our world would be vastly different. So I ask you to please join me in praying that my New Year's wish would become a reality.
On behalf of Human Life International's pro-life missionaries and all the people we serve around the world, again, a very blessed and happy New Year!
Did you find this useful?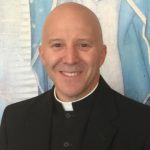 Father Shenan J. Boquet was ordained in 1993 and is a priest of the Houma-Thibodaux Roman Catholic Diocese in Louisiana, his home state, where he served before joining HLI as its President in August 2011. Father Boquet earned a BA from Saint Joseph Seminary College, a Master of Divinity (MDiv) from Notre Dame Seminary Graduate School of Theology, a Certification Program in Health Care Ethics from the National Catholic Bioethics Center, and a Master of Science in Bioethics (MSBe) from the University of Mary in Bismarck. In 2018, Father Boquet was awarded an honorary visiting professorship by the Benedict XVI Catholic University in Trujillo, Peru. He is available for interviews and bookings on behalf of HLI by emailing hli@hli.org.