Why Wait to Receive Christ's Peace?
On the night of Christ's birth, the angels who appeared to the shepherds of Bethlehem sang, "Glory to God in the highest heaven, and on earth peace among those whom he favors!"
Peace.
There is something about this word – the sound of it, the feel of it on our tongue – that seems to suggest something of its meaning, and something of the longing we feel for this blessed state.
When we speak the word "peace", it sounds like a sigh. "May he rest in peace," we whisper at funerals. "Please, just leave me in peace," we say when we are overwhelmed by the day, and just want to be left alone.
Peace is a word that comes up again and again in the Gospels, and in particular in conjunction with Christ's nativity. Isaiah, prophesying the coming of the Messiah, wrote, "For to us a child is born, to us a son is given, and the government will be on his shoulders. And he will be called Wonderful Counselor, Mighty God, Everlasting Father, Prince of Peace."
He continues, "Of the greatness of his government and peace there will be no end. He will reign on David's throne and over his kingdom, establishing and upholding it with justice and righteousness from that time on and forever. The zeal of the LORD Almighty will accomplish this." (Isaiah 9:5-6)
Our Mistaken Understanding of Peace
Who among us does not desperately long for peace? And yet, who among us can truly say that we have achieved this desired state of being?
These past two years, in particular, have seemed to bring anything but peace. Our nation and the world seem increasingly riven by discord. More and more we Christians seem to be on our back foot, retreating against the ever-more-ferocious onslaught of those who oppose everything we believe and stand for. The threat of this virus, the disagreements about how best to respond, and the personal and financial costs, have cast a pall of fear and anxiety over our everyday life.
We long for peace, and yet so often it seems as if there is no peace to be found.
And yet, it is well to remember that even on the night of Christ's nativity there was no "peace," in one sense of the term. At the time, Jerusalem was under foreign occupation. The Roman general Pompey had conquered the Holy City in 63 B.C. Although by the time of Christ's nativity things had settled into an uneasy stalemate, the situation was tense. Throughout the first century A.D. war would repeatedly break out between the occupied Jews and their Roman occupiers, leading to the destruction of the Temple in 70 A.D.
Part of the reason that the Jews at the time of Christ's birth were so anxious for the coming of Messiah, is that they hoped that He would deliver them from the foreign invaders. This explains why when the Jewish Sanhedrin wished to kill Christ, they told Pontius Pilate (Jerusalem's Roman governor) that He had said that He was a "king." If true, this would suggest that Christ intended to set Himself up as a political rival to the Roman emperor.
However, we all know what Christ told Pontius Pilate when Pilate confronted Him with this accusation. "My kingdom is not of this world," Christ replied. "[If] my kingdom did belong to this world, my attendants would be fighting to keep me from being handed over to the Jews. But as it is, my kingdom is not here." (John 18:36)
All throughout history, Christians have been subject to the same temptation as those disciples of Christ who looked to Him to bring peace through political victory, and were disappointed.
Too often, we Christians seem to treat the Gospel as if it is primarily a social or political movement, or even a self-help plan! We act as if we believe that peace will only be possible when we have molded the world to what we perceive as the correct Christian model, with Christians possessing all the seats of power, and with all the laws reflecting Christian ideals.
At the personal level, we frequently fall into more or less explicit versions of "prosperity theology," expecting that if we follow Christ, all the good things of the world will fall into our laps, and our lives will be filled with ease and an external peace.
And yet, this is never what Christ promised us. "I have said these things to you, that in me you may have peace," He says to his disciples at the Last Supper. But then He adds, "In the world you will have tribulation. But take heart; I have overcome the world." (John 16:33)
"In the world you will have tribulation." In other words, until Christ comes again in glory, we must not expect the cessation of turmoil, suffering, dissension, and hardship.
Of course, like Christians in every age, we must strive valiantly to be the leaven in our society. We must set about performing the corporal and spiritual works of mercy – feeding the hungry, clothing the naked, instructing the ignorant, etc. – thereby alleviating suffering, redressing injustice, and bringing the kingdom of God to earth.
And yet, we must never live in the expectation that it somehow lies within our power to finally bring heaven to earth, and we must avoid the trap of thinking that we need to wait for some future moment of victory, in which all the external circumstances of our lives and society are brought into conformity with some ideal plan, to receive the gift of peace that Christ offers us.
This Christmas, Rest in Christ's Peace
There is an ancient homily that is included in the breviary every Holy Saturday. Although it may seem strange to quote a homily from Holy Week in reference to Christmas, the opening lines of this homily strike me now as rather apt.
"Today there is a great silence over the earth," begins the homily, "a great silence, and stillness, a great silence because the King sleeps."
As on Holy Saturday, on Christmas Eve it seems as if the whole world is enveloped in a great silence. Snow is not uncommon in Bethlehem in the winter, and inevitably one imagines that on the night of Christ's birth there was a gentle snowfall, accompanied by that peculiar hush that follows when the world is wrapped in a soft blanket of new-fallen snow.
Inside the stable, Mary and Joseph gaze in loving silence on the newborn child, while the animals low quietly. And as on Holy Saturday morning, the King sleeps, wrapped in swaddling clothes, lying in a manger.
The only thing that disturbs this great silence is the song of the angels on the hillsides of Bethlehem, singing their joyous paean to the Prince of Peace. However, one imagines that when the shepherds find the lowly stable at the angels' prompting, they enter quietly, so as not to not wake the sleeping babe. If they speak, it is in whispers.
In The Power of Silence, Cardinal Sarah writes,
God's silence is a glowing burn for the man who approaches him. Through this divine silence, man becomes a bit estranged from this world. He is separated from the earth and from himself. Silence impels us toward an unknown land that is God. And this land becomes our true homeland. Through silence, we return to our heavenly origin, where there is nothing but calm, peace, repose, silent contemplation, and adoration of the radiant face of God.
It is a great mistake to think that we must wait for some external circumstance to change in order to experience this gift of peace. Christ offers us His peace, today. "Peace I leave with you; my peace I give you. I do not give to you as the world gives. Do not let your hearts be troubled and do not be afraid." (John 14:27) This is the message of Christ's coming in the silence of the night in Bethlehem.
On the night of Christ's nativity, the world was troubled in many ways. And yet, the Prince of Peace had come, offering the gift of peace to those who would accept it. It is up to us to learn how to accept this gift of peace from Christ's hand. As Cardinal Sarah suggests, we must learn to pull back from the noise and chaos of the world. We must retreat into the silence of the stable, "where there is nothing but calm, peace, repose, silent contemplation, and adoration of the radiant face of God."
This Christmas, we must take time to go apart from the crowd, from the parties, and presents, and food and celebrations, to spend time in quiet prayer. Christ is waiting for us. He was born for this. To give Himself to us. Let us receive Him into the interior stables of our hearts, and rest in His peace.
"Be anxious for nothing, but in everything by prayer and supplication, with thanksgiving, let your requests be made known to God; and the peace of God, which surpasses all understanding, will guard your hearts and minds through Christ Jesus." (Philippians 4:6-7)
Did you find this useful?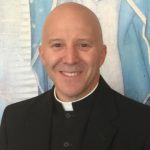 Father Shenan J. Boquet was ordained in 1993 and is a priest of the Houma-Thibodaux Roman Catholic Diocese in Louisiana, his home state, where he served before joining HLI as its President in August 2011. Father Boquet earned a BA from Saint Joseph Seminary College, a Master of Divinity (MDiv) from Notre Dame Seminary Graduate School of Theology, a Certification Program in Health Care Ethics from the National Catholic Bioethics Center, and a Master of Science in Bioethics (MSBe) from the University of Mary in Bismarck. In 2018, Father Boquet was awarded an honorary visiting professorship by the Benedict XVI Catholic University in Trujillo, Peru. He is available for interviews and bookings on behalf of HLI by emailing hli@hli.org.