The Annunciation, Inherent Human Dignity, and Mary's Fiat
Day of the Unborn
I am writing you today from Harare, Zimbabwe where I am on mission with Dr. Brian Clowes, Mr. Emil Hagamu and HLI's local affiliate. Our mission has been very fruitful because of your prayers and support; however, because of poor catechesis, corruption, economic hardships and decades of "colonization of the mind", there is a tremendous need for pro-life evangelization. Life and family are under siege and suffer under the deceptive weight of the contraceptive mentality. Several mission programs revealed how systemic the problem is and the level to which the government and eighty population control groups will go to sustain their agenda. Numerous times we heard, "We need contraception to solve the issues of poverty… We are very poor and cannot afford children." I will provide more about this mission in upcoming columns. But to the International Day of the Unborn.
Meanwhile, as we prepare to enter these most solemn of days, please join me in prayer for the people of Zimbabwe and the universal Church, for there is no place where Life and family are not struggling. Today, we usually celebrate the Feast of the Annunciation, which offers us opportunity to contemplate the gift of the Incarnation – the Healer of human nature – and Mary's trust in the will of God.
When St. Pope John Paul II released his extraordinary pro-life encyclical, Evangelium Vitae, he fittingly did so on March 25 – the Feast of the Annunciation. On this feast, the Universal Church celebrates two great mysteries: 1) The moment when the Godhead first took on human flesh, and became incarnate within the womb of Mary, and, 2) Mary's fiat, her free, total act of trust in God, by means of which she became Theotokos, "Mother of God," and thereby the instrument by which God brought about His plan of salvation for the whole human race.
Each of these mysteries has enormous, direct relevance on our struggle to protect all human life. This, undoubtedly, is why St. Pope John Paul II encouraged the growth of the celebration of March 25 as the "International Day of the Unborn." I hope you will join me in celebrating, using some of the suggestions mentioned at the end of this column.
The Incarnation
Regarding the first mystery, the Incarnation, we know from Genesis that God created man in His own image (Gen 9:6). And because of that image, which is expressed most clearly in man's capacity for rationality and free choice, human beings possess a dignity far above that of any of the other animals. Indeed, humans possess the awesome potential for intimate friendship with God – something no other creature, except the angels, can boast. Nor can that dignity ever be completely erased, whether through sin or through any other misfortune such as sickness, debility, poverty, enslavement, or violence.
Tragically, however, human beings have often failed to recognize and honor the dignity of their brothers and sisters, starting with Cain's treatment of his brother Abel. History is rife with examples in which one group of human beings has denied the intrinsic worth of another group, thereby justifying all manner of atrocities. In ancient pagandom there was no doctrine of universal human rights, for the simple reason that there was no doctrine of universal human dignity. Failing to recognize the image of almighty God in others, humans have slaughtered and enslaved one another.
However, something changed – or, perhaps, was reaffirmed in a startling and dramatic fashion – when Christ took on corruptible human flesh. This extraordinary act of self-abnegation on God's part affirmed once and for all the value of each and every human life. Going back to the Fathers of the Church, the tradition is strong that Christ's incarnation both healed something in human nature and revealed something already there. The Second Vatican Council's Gaudium et Spes says Christ thus "fully reveals man to man himself and makes his supreme calling clear." That same document eloquently continues:
To the sons of Adam [Christ] restores the divine likeness which had been disfigured from the first sin onward. Since human nature as He assumed it was not annulled, by that very fact it has been raised up to a divine dignity in our respect too. For by His incarnation the Son of God has united Himself in some fashion with every man. He worked with human hands, He thought with a human mind, acted by human choice and loved with a human heart. Born of the Virgin Mary, He has truly been made one of us, like us in all things except sin. ¶22
The unfortunate human tendency is to judge the worth of another by the value of their capacities, contributions, and appearances. Christ's decision to take on human flesh, however – not in the perfect, developed form of a mature man, but first as a tiny embryo in His mother's womb – stands as the ultimate rebuke to this tendency.
Christ in His mother's womb at the moment of His conception was as much our God and Savior as He was over three decades later, dying on the Cross. This idea isn't just theological speculation without any practical consequences. Here is the seed of a revolution. And as Christianity spread across the world, the seed of that revolution blossomed, until such a point that universal human rights is a notion now taken for granted.
 Unfortunately, however, the spirit of Moloch still prowls the world. As such, we must still battle with the ancient satanic propensity to justify violence by denying the humanity of some group of humans. If our civilization has resumed the pagan practice of denying the small and the helpless any value, with the result that we destroy our unborn brothers and sisters by the millions for no other reason than that they are "inconvenient," it is in part because we have forgotten or denied the mystery of the Incarnation.
Mary's Fiat
St. Pope John Paul II concluded Evangelium Vitae with a reflection on Mary's role in the Gospel of Life. He wrote:
The one who accepted 'Life' in the name of all and for the sake of all was Mary, the Virgin Mother; she is thus most closely and personally associated with the Gospel of life. Mary's consent at the Annunciation and her motherhood stand at the very beginning of the mystery of life which Christ came to bestow on humanity (cf. Jn 10:10). Through her acceptance and loving care for the life of the Incarnate Word, human life has been rescued from condemnation to final and eternal death. ¶102
Mary, in saying "yes" to the will of God, opened herself up not only to great joy, but also great uncertainty and the certitude of great pain. "This child is set … for a sign that is spoken against – and a sword will pierce through your own soul also – that thoughts out of many hearts may be revealed" (Lk 2:34-35). As such, she is the icon of every single woman who discovers that she is expecting a child. For just as there is no life without the possibility of great hope and joy, neither is there life without the risk of great uncertainty and pain. For some women in some circumstances, the anticipation of love and joy will predominate in their response to pregnancy; for others, the uncertainty and the foreboding of pain will predominate. Mary provides the example for both: complete submission to God's will, not in a spirit of servile fear, but of loving trust in the goodness of God.
The abortion industry feeds off of fear and despair. Where there is hope and love, there is no abortion. What women need more than anything is to heed the exhortation of the angel to Mary – "Do not fear!" – and Mary's own example – "Do unto me according to thy word." Just as Bethlehem is an icon of what the family can and should be, so too the Annunciation is an icon of the correct response to new life. Mary's fiat thus provides the central message of hope, the imitation of which has the power to end the abortion holocaust.
It is worth noting, however, that St. Pope John Paul II broadens his interpretation of the Annunciation, finding in Mary's response and the Angel's message, a message of hope not just for individual women, but also for the whole Church. "Mary is a living word of comfort for the Church in her struggle against death," he wrote in Evangelium Vitae. "Showing us the Son, the Church assures us that in Him the forces of death have already been defeated."
How to Celebrate the Day of the Unborn
It should thus be wholly unsurprising that St. Pope John Paul II was a great supporter of the movement to celebrate March 25 as the International Day of the Unborn. This day, first celebrated in Argentina in 1999, has since been formally celebrated in several other countries.
Due to the conflict this year between the feast of the Annunciation and Palm Sunday, the Church has transferred the celebration of the feast to Monday, April 9. There is thus nothing stopping us from moving our own commemoration of the Day of the Unborn to the same day – uniting our pro-life efforts with the intercession of Mary.
Here, then, are just a few concrete ways that pro-life people can celebrate the Day of the Unborn on or around April 9:
Spiritually adopt an unborn child and pray for him and his mother for nine months
Organize local Marches for Life or Rosary processions to abortion clinics or government buildings
Hold a fundraiser for pro-life groups or crisis pregnancy center
Offer a Mass or a prayer vigil for life
Organize a Life Chain in your town
Pray outside an abortion clinic
Host a pro-life movie night
Pass out pro-life literature at your church
Set up a "cemetery of the innocents" somewhere in your community to witness to all the lives lost because of abortion
I hope you will join me in celebrating this great feast day of the Church by seeking some way to reach out to our smallest, most helpless brothers and sisters. Let us pray:
℣. Pray for us, O' Holy Mother of God.
℟. That we might be made worthy of the promises of Christ.
Did you find this useful?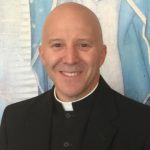 Father Shenan J. Boquet was ordained in 1993 and is a priest of the Houma-Thibodaux Roman Catholic Diocese in Louisiana, his home state, where he served before joining HLI as its President in August 2011. Father Boquet earned a BA from Saint Joseph Seminary College, a Master of Divinity (MDiv) from Notre Dame Seminary Graduate School of Theology, a Certification Program in Health Care Ethics from the National Catholic Bioethics Center, and a Master of Science in Bioethics (MSBe) from the University of Mary in Bismarck. In 2018, Father Boquet was awarded an honorary visiting professorship by the Benedict XVI Catholic University in Trujillo, Peru. He is available for interviews and bookings on behalf of HLI by emailing hli@hli.org.